MICHAEL PAREKOWHAI IN VENICE
A crew from Point of View Productions travelled to Italy to document Michael Parekowhai's work at the Venice Biennale 2011.
The Venice Biennale is the pre-eminent global contemporary visual arts event attracting a host of international artists, curators, critics and collectors.
Michael Parekowhai is one of New Zealand's most important contemporary practitioners. In addition to an extensive exhibition history, his work is held in all significant public and private collections throughout New Zealand and Australia, as well as major works in permanent collections across the Asia-Pacific region and Europe.

The Palazzo Loredan dell'Ambasciatore (left) where Michael Parekowhi's work was exhibited

Shirley Horrocks and Leon Narbey on the way to the Palazzo

The Palazzo Loredan dell'Ambasciatore

A Peak in Darien with the Grand Canal just beyond the gate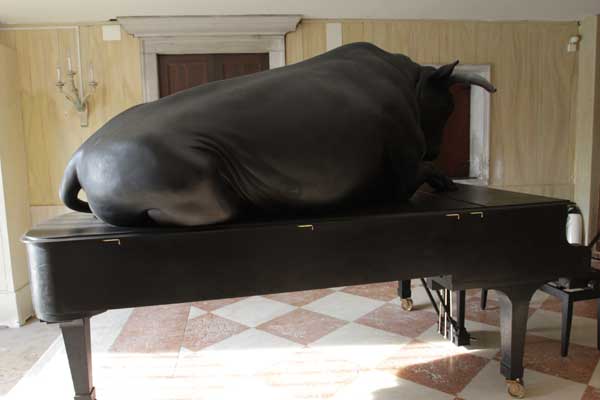 A Peak in Darien

Security man Kapa Haka

Story of a New Zealand River

On the way to the Palazzo

Chapman's Homer in the garden of the Palazzo

Chapman's Homer in the garden of the Palazzo
Chapman's Homer

Chapman's Homer (rear view)

Chapman's Homer
Photos by Anita Narbey